Features and apps to make your workday easier
ClubMaster is an online booking system that gives you the best possible tools to structure your day-to-day operations. Using our system, the process of working with the administrative part of your business is simplified for both you and your clients, and whether it's a payment, booking appointments or maintaining client journals, you'll have the time, peace and quiet to focus on what's important to you and your business.
Admin Dashboard
We know how much work there can be in running an organization or getting paid by your customers.
So we have made a super easy Admin Dashboard where you quickly can get all relevant information about how your business is running.
You can see how occupied your organization or business is in the future.
You can check how much and who is in debt to collect the money faster.
And a lot more :) Welcome to ClubMaster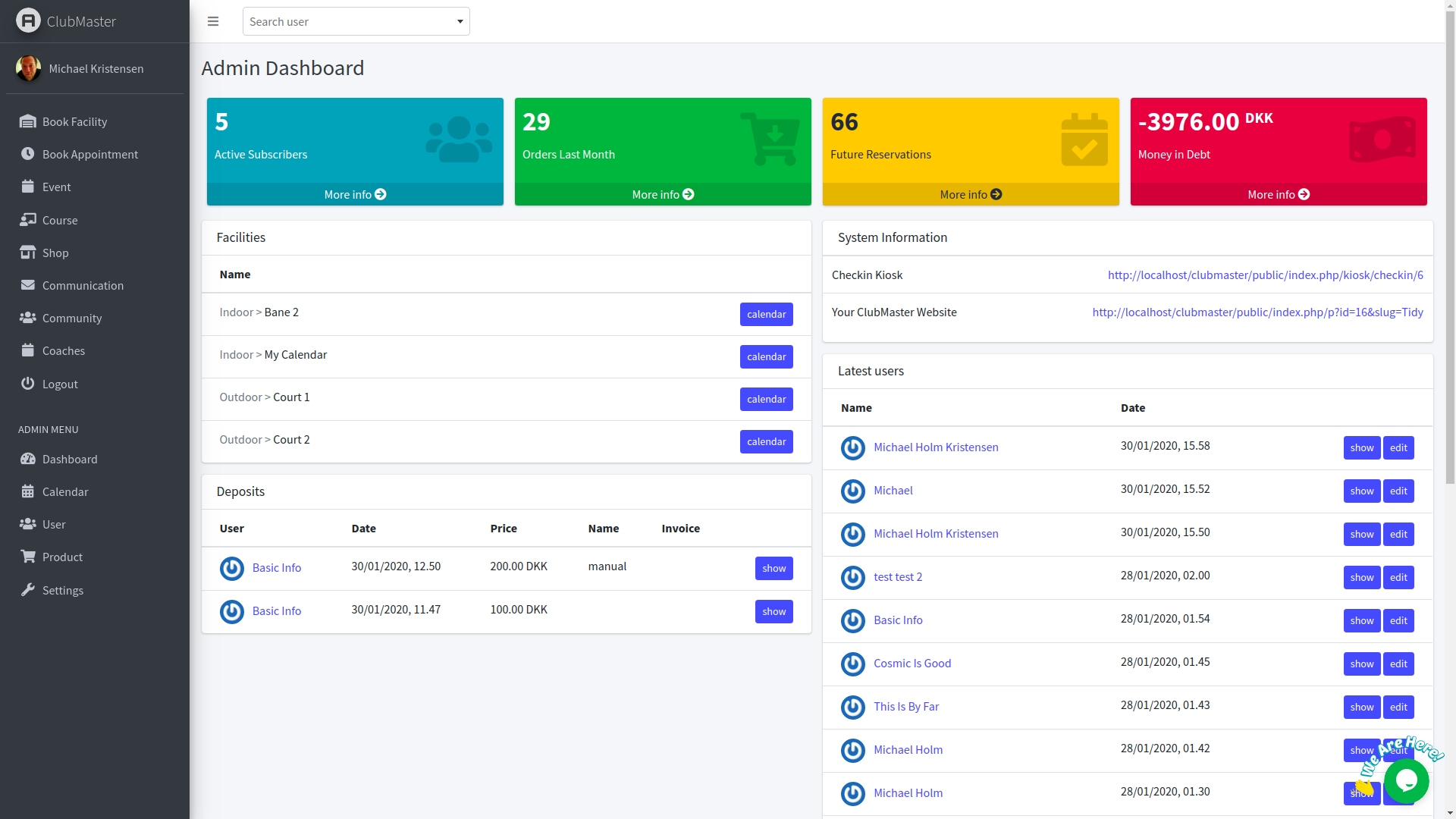 Calendar
We want things to be as easy for you as possible, and we try to find known already existing solutions and put them all together so that you will have a really simple overview of your appointments in your calendar.
You can have as many calendars as you like, if you are having a Clinic or a Hairdresser, you can make a calendar for each of the employees, so your customers can book a time with whom they might prefer.
You can move around with the existing appointment or classes, just press the booking and move it where ever you like.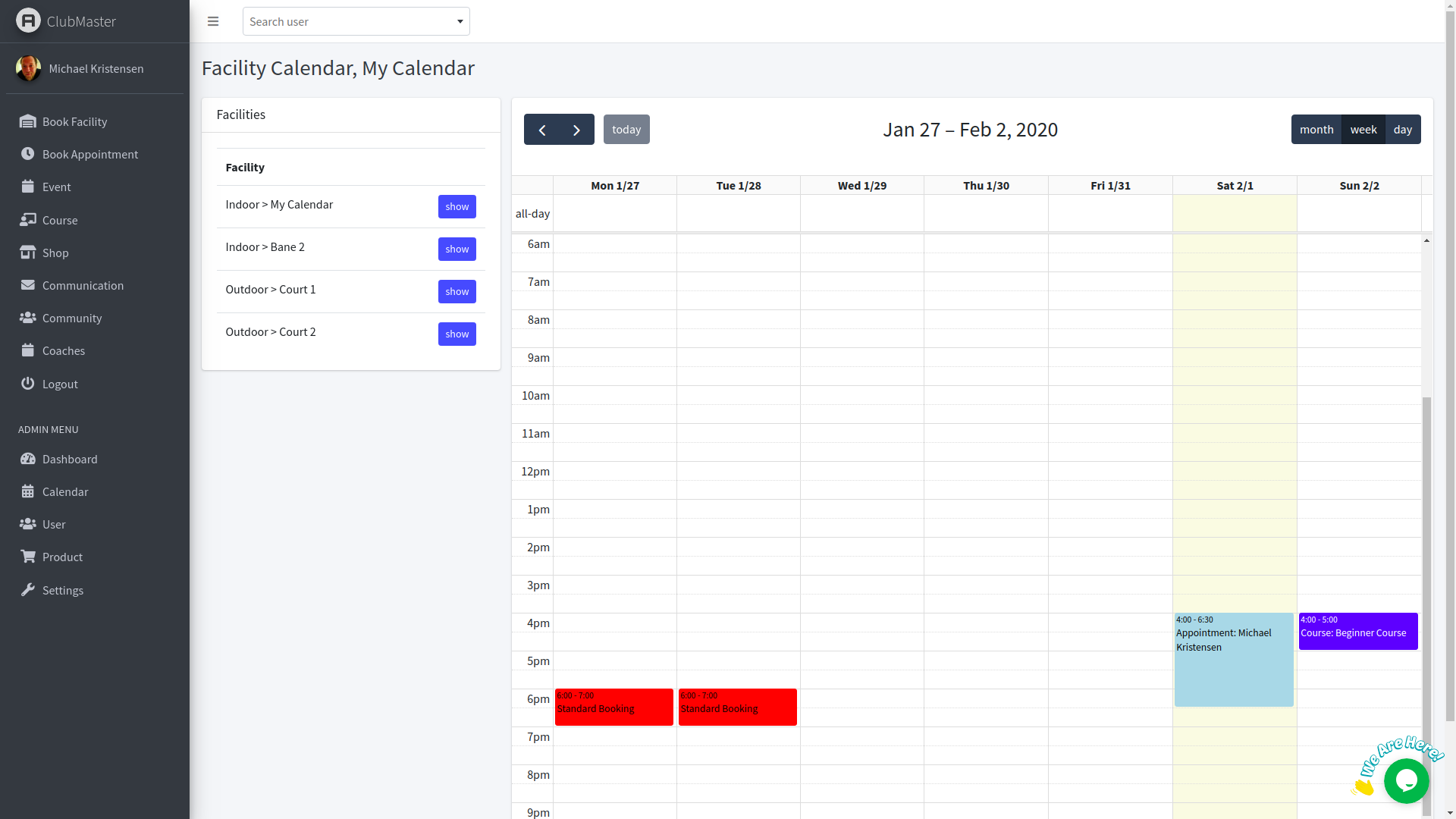 Appointment Booking
This is the base of most businesses, your customers can quickly and easy book an appointment to your calendar.
We have made it a few steps guide to make it really easy for your customers to buy your services.
First, they need to pick which services they would like to book, can be a massage, personal diet instruction or whatever you might be offering.
Then they can find the right timeslot which fits them and you.
That will be much easier for you to get new customers in the future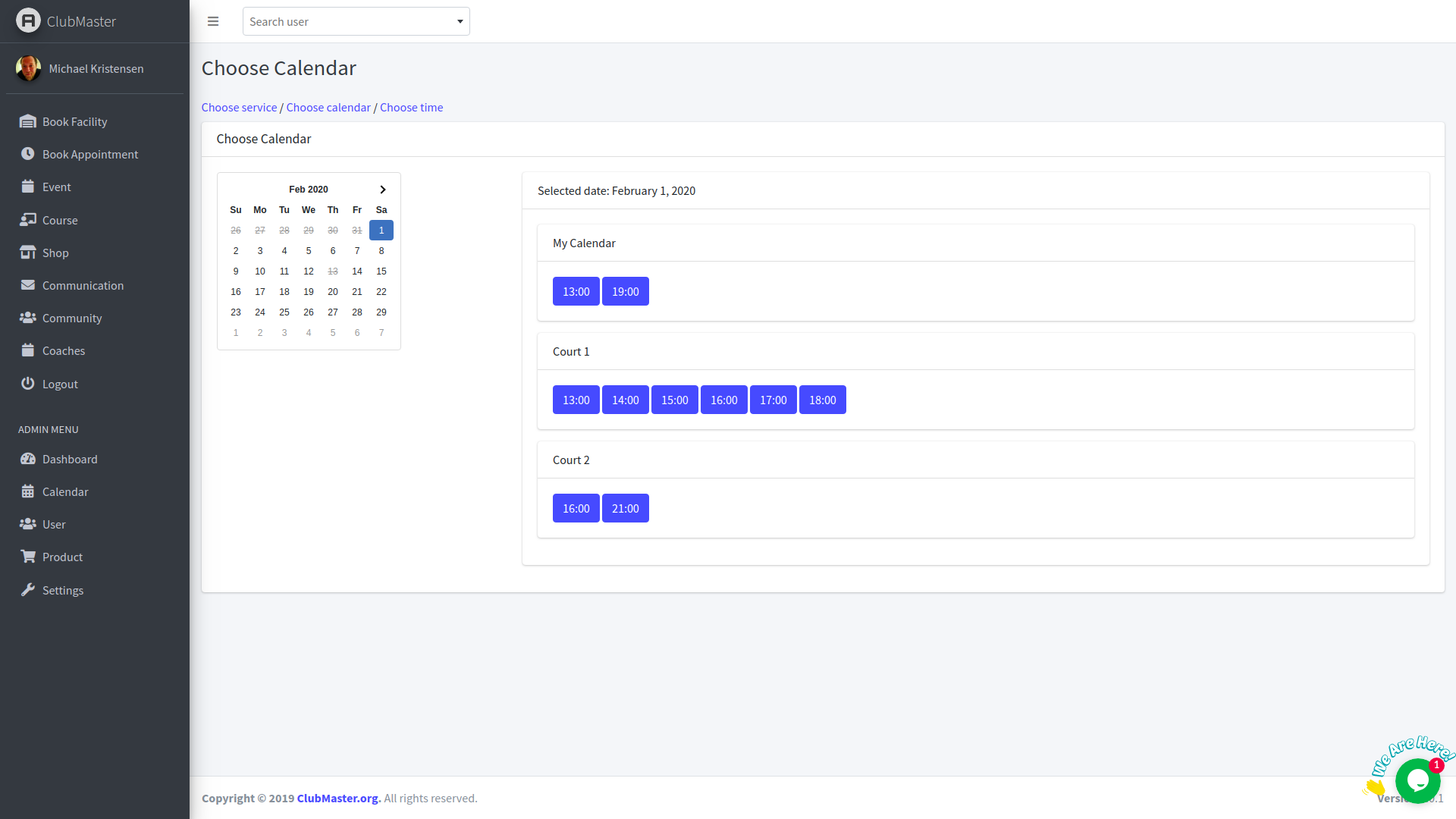 Checkout
Your checkout page, here we are throttling all different payments, no matter if people are buying events, courses, products, or anything you are offering, they will get to the same page.
We have made it nice and simple. For instance, if visitors are not logged in, they can create a new account here or log in as an existing user.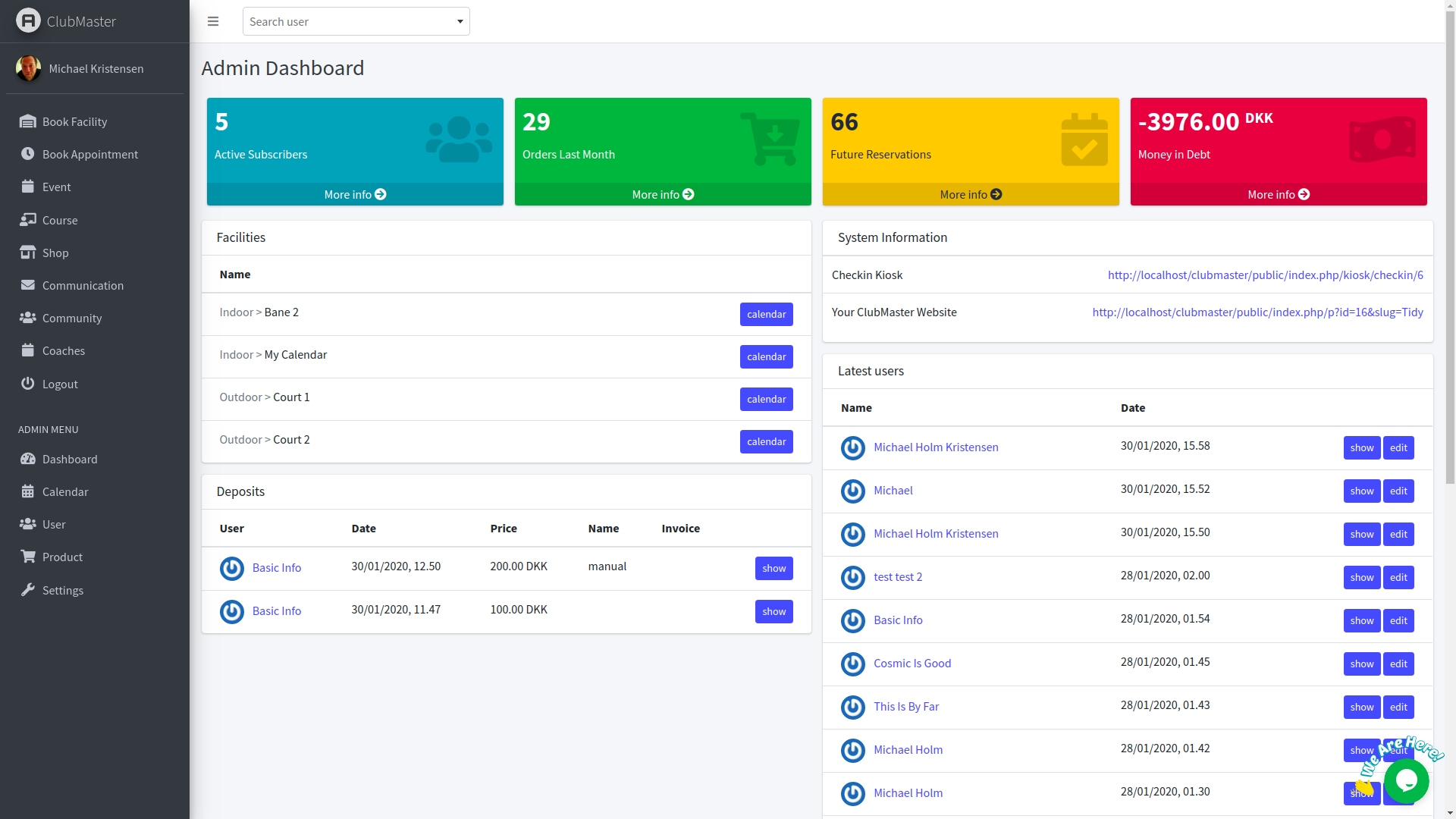 User Management
With ClubMaster you have an unlimited number of members, there are no restrictions if you have 10 or 10.000 members. We have made it easy for you to find all the members with an easy search function.
We are keeping track of old as well as new members, you can always find your old members and their history.
All members are getting their own logins, so they can buy their memberships, and control everything by themselves, you are just setting the rules for how they can behave in your community.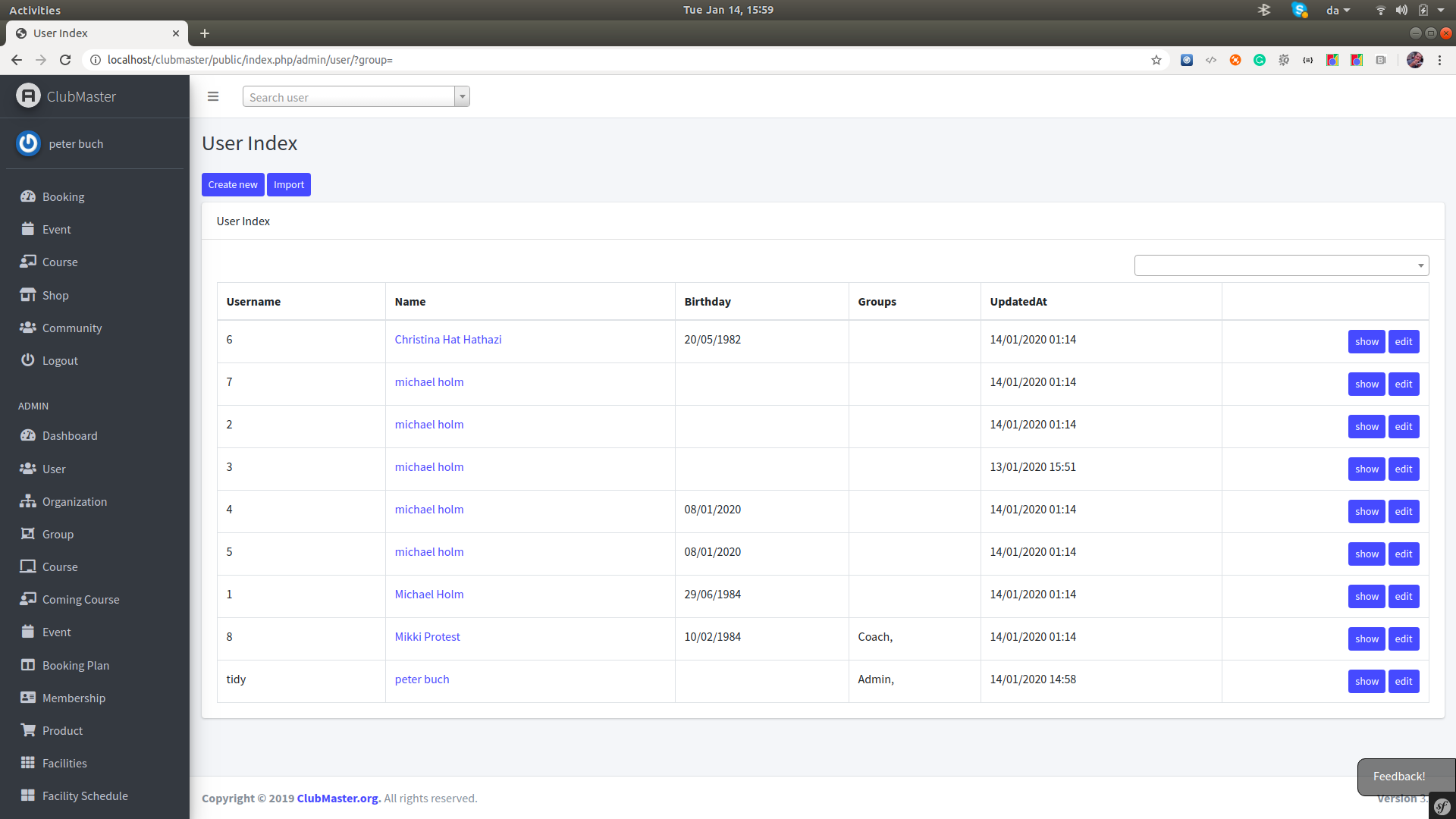 Group Management
With our group management, you can easily select a group of people who are having special rights in the system. So maybe you need multiple administrators, then just make a group and assign them as administrators.
You can also make a selection of members so you have control of who might be playing on your first team, or which users should get special discounts.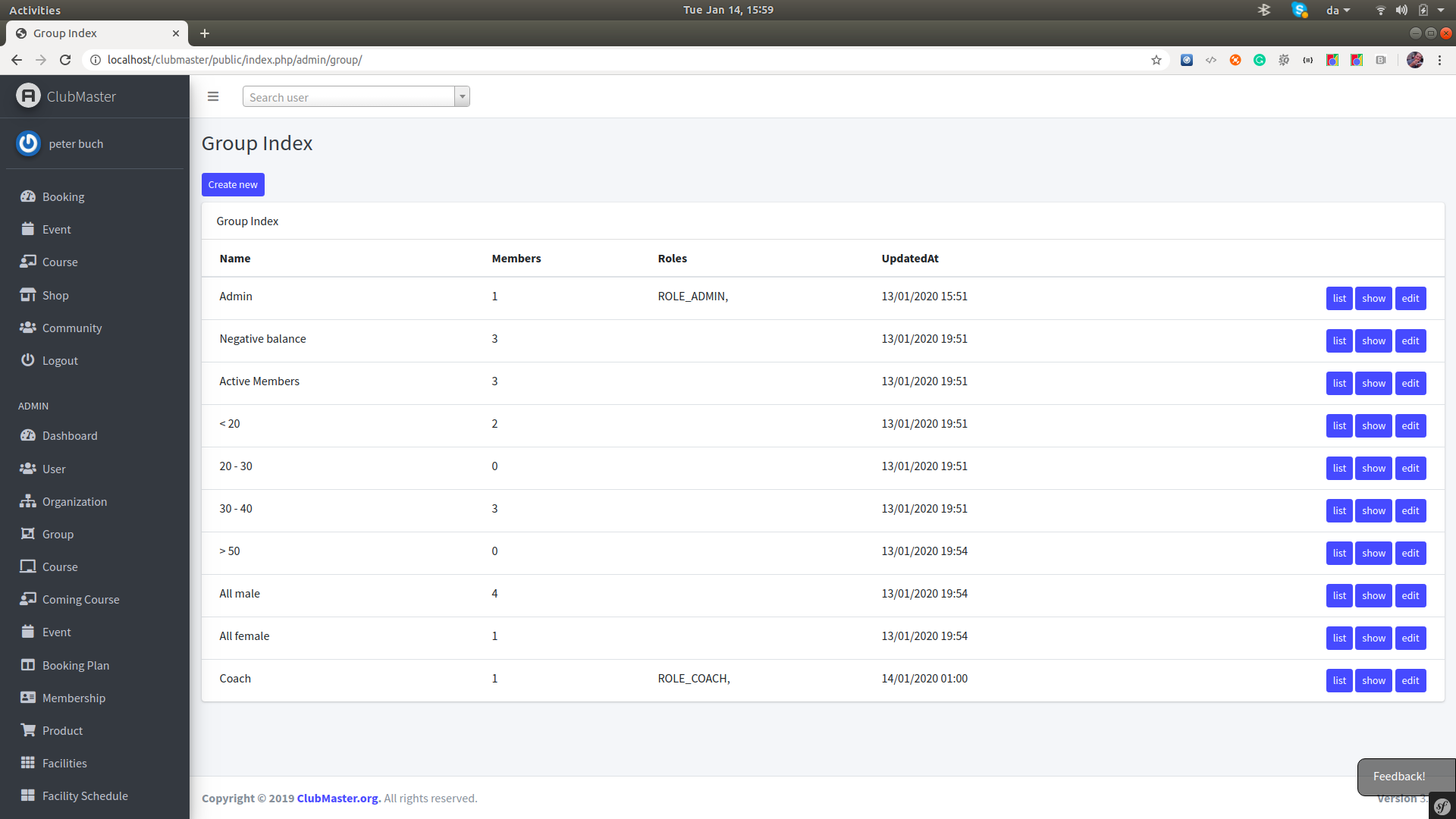 Memberships
ClubMaster memberships are very configurable, you can define which facilities they are allowed to use, and at what time on the day they are allowed to use your facilities.
So you can make different subscriptions, some of which are less expensive which gives fewer rights for your users.
Besides that, you can also make clip cards for your members, so instead of having a subscription, they can pay for how much they are using your facilities or are attending your courses.
Everything is up to how you want your community to be.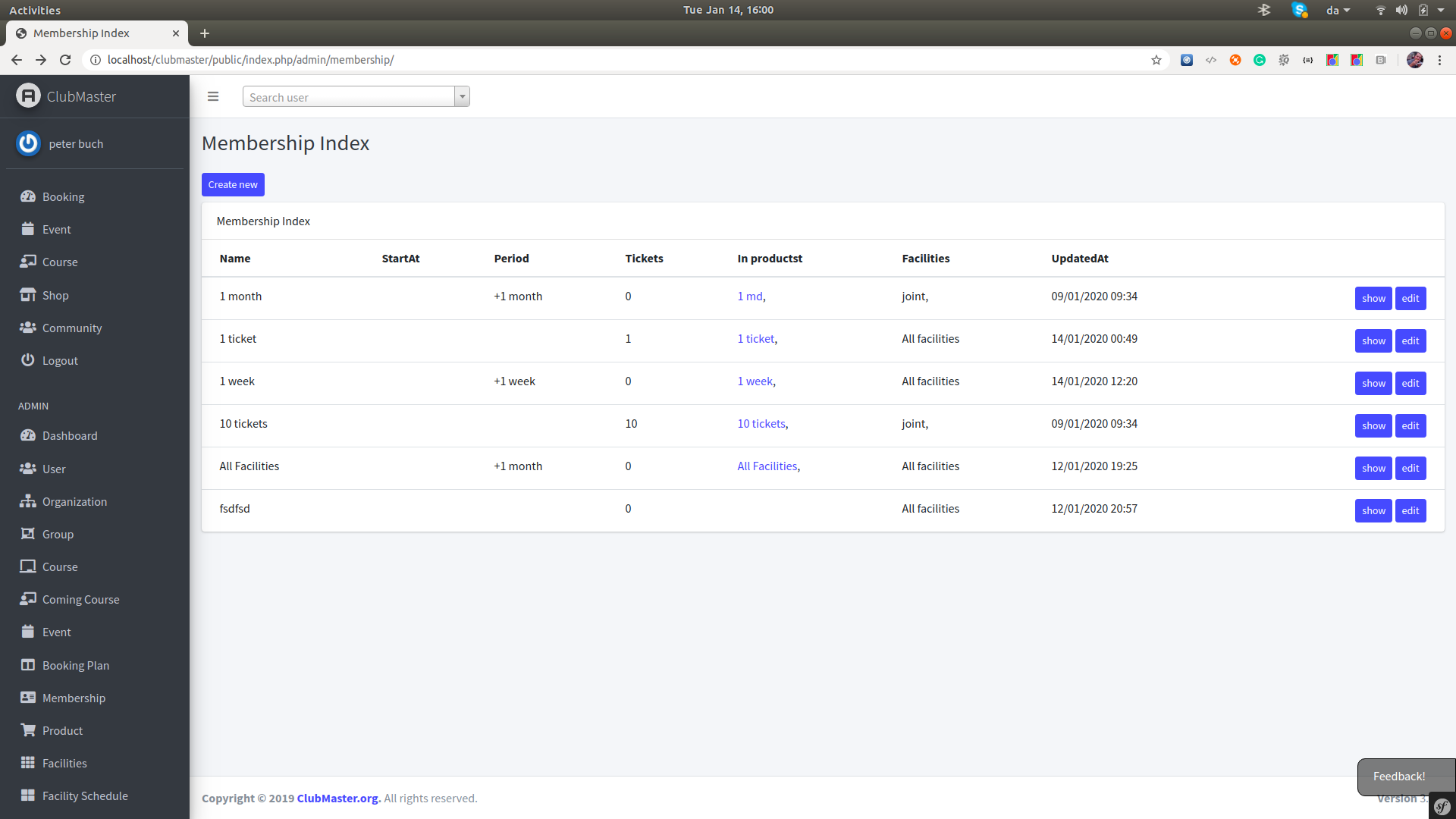 Facility Booking
The facilities are the resources that your members are allowed to use, that can be
Tennis Courts
Badminton Courts
Personal at a clinic
Or timeslots for coaching sessions
You can configure them as you like, you can have a simple version where you just have a single tennis court.
You can also have a big area having
An outdoor place with 4 courts
An indoor place with 2 courts
A gym where people can book sessions with a coach
Everything in the same community, its really up to how your community is constructed, then it should be possible to configure with ClubMaster.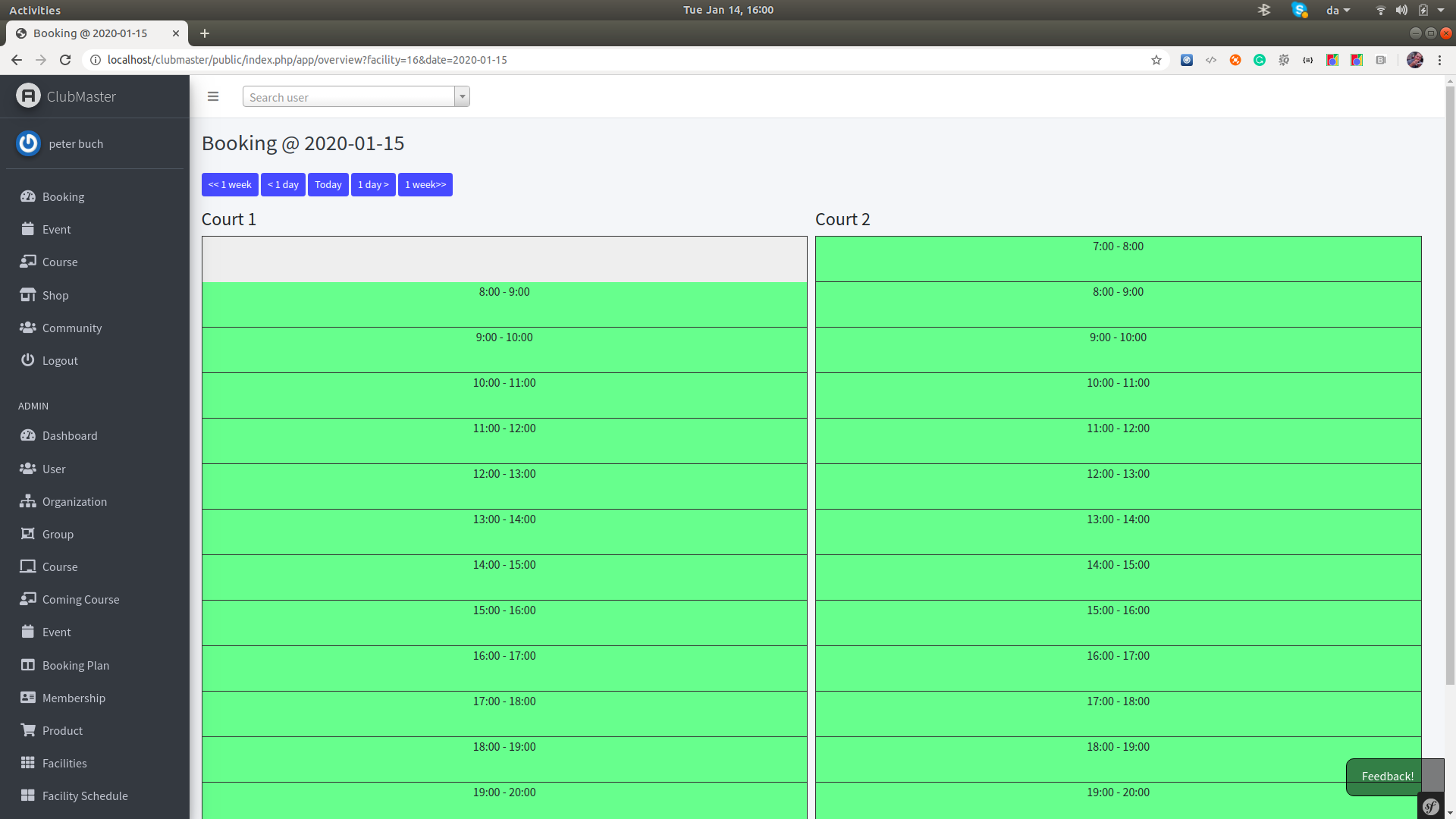 Course Management
We support any kind of course, that can be team training for a tennis club, you can schedule team training for beginner and intermediate every day at 18.00-19.00 on a specific facility.
You can make rules on how many participants can join the course.
It works just as well for Crossfit classes, gym classes or if you have a course for education purposes, you can make the same. There is no limit on how you can create courses.
As a coach, you can log in and get an overview of who is participating in your class.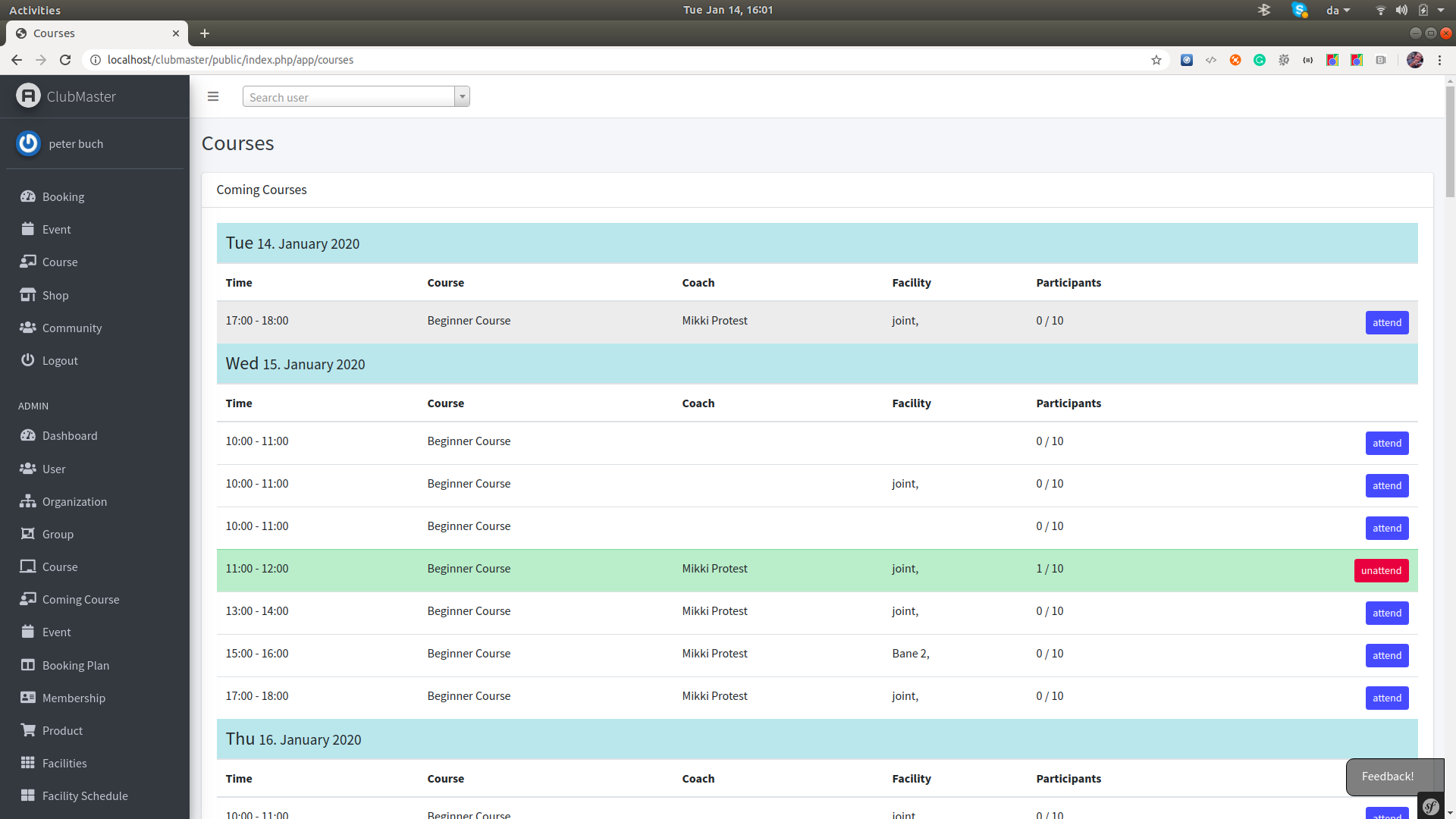 Event Management
Events are a little like courses, there are just some different options. If you want to schedule an event in the community for a Barbeque party, or a tennis tournament, the users can signup automatically here for your event.
It is really easy for an administrator to watch who is participating, and give announcements to this specific group of people attending an event.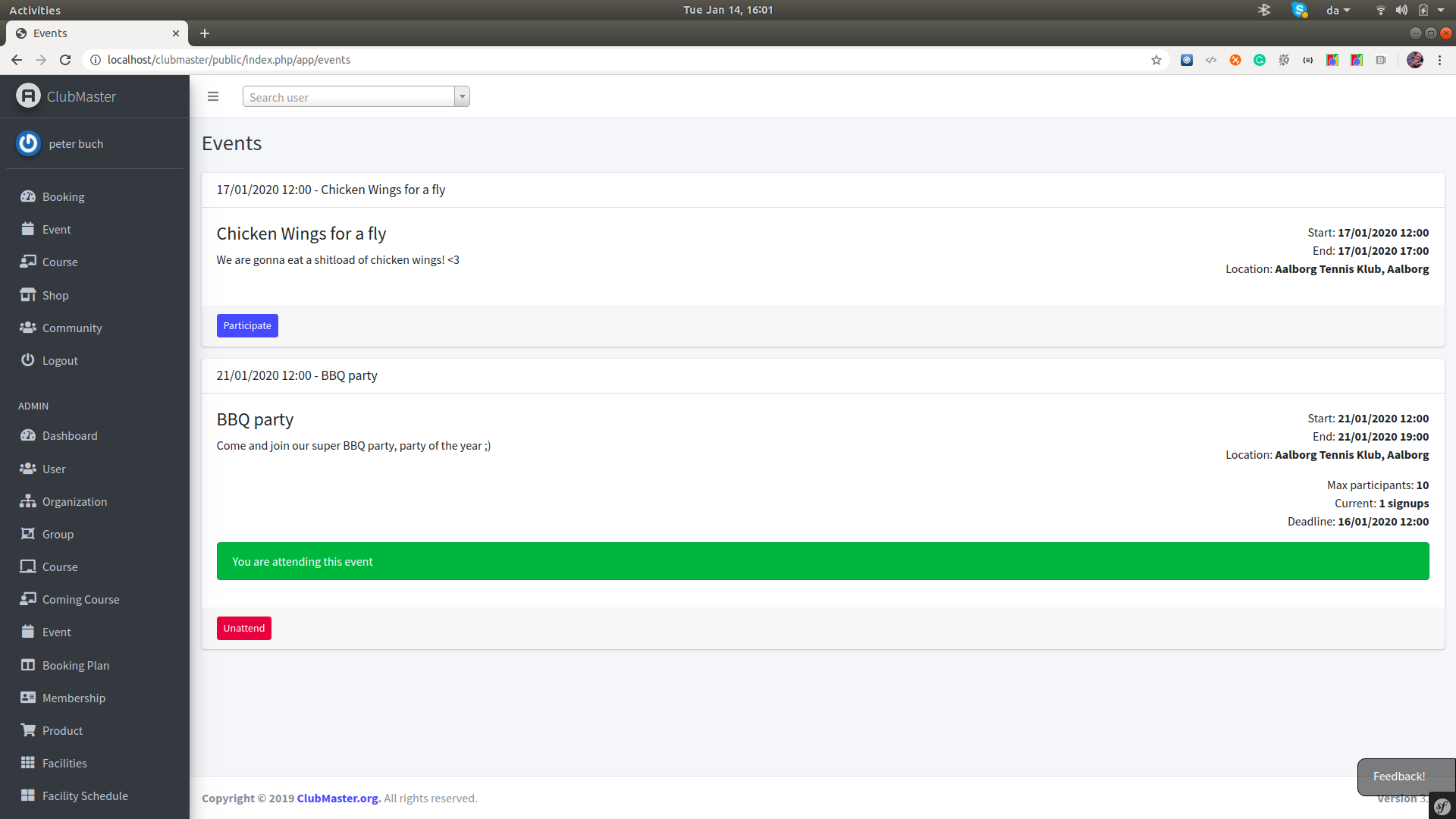 User Announcement
If you have some special announcements for your community, you can make announcements that will come to the member's email in case they have selected that option, otherwise, it will be visible on the booking touchscreen. It will also appear on the front page of the member dashboard when people are logging in.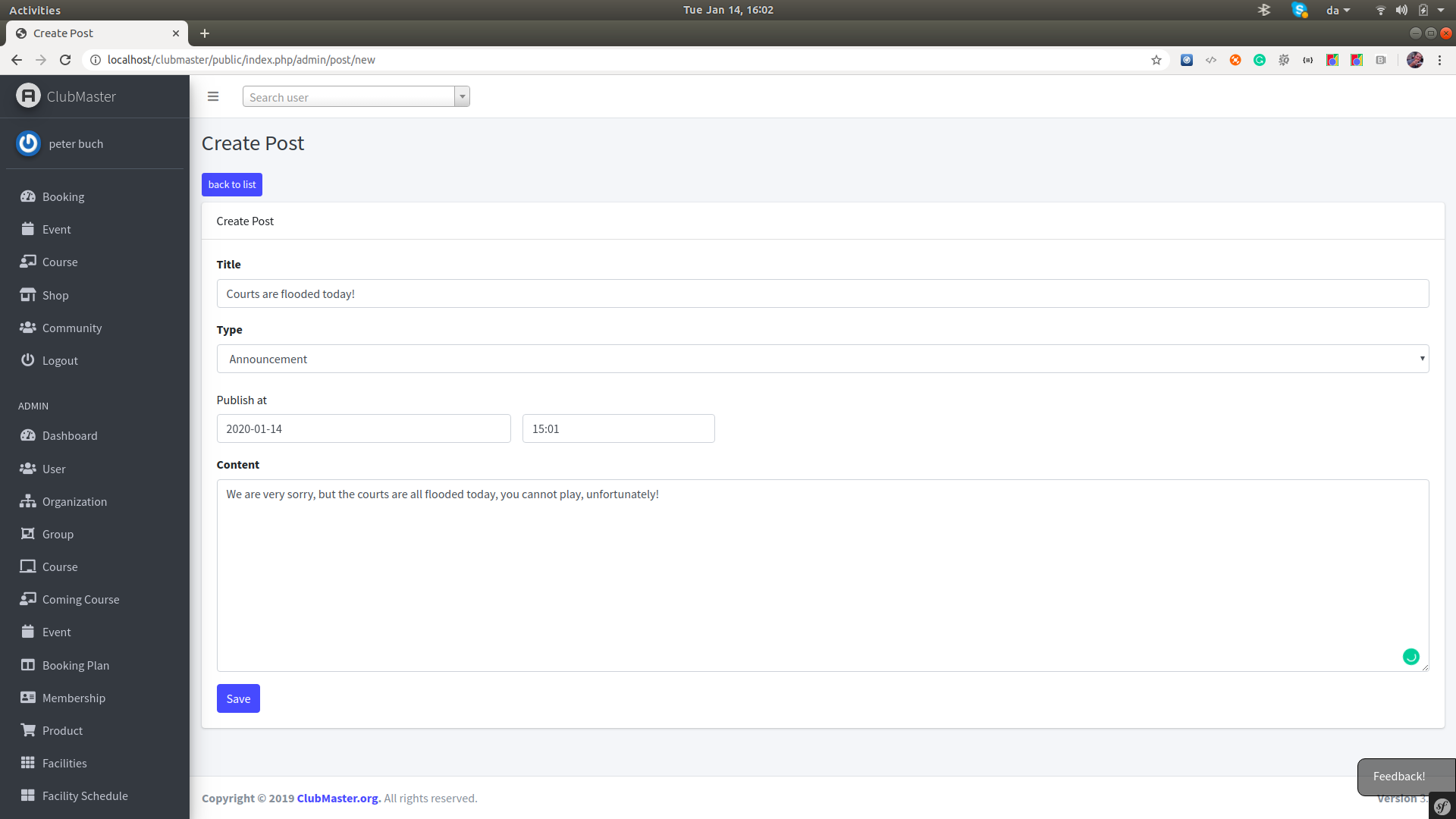 Custom Forms
ClubMaster support multiple signup forms, you can customize different forms to different events. So you are fully in control of which informations you would need from your customers.
You can even change the default signup form if you don't like what we provide from the beginning.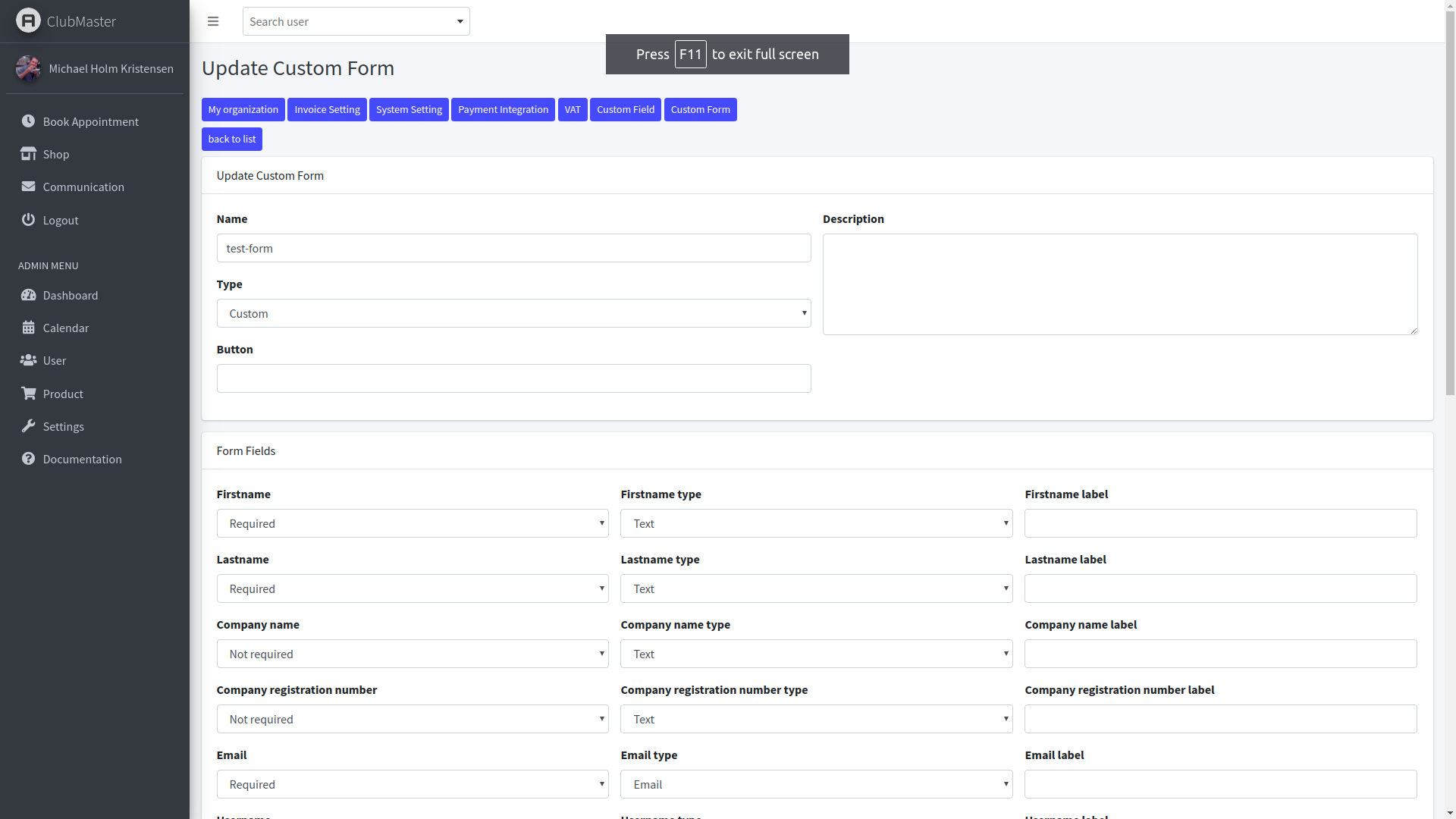 API
We are developers, and we love developers so we have made it very easy for any developer to integrate ClubMaster to your app or platform in any way you like. You can completely customize your experience of ClubMaster on your website. If you need any other information that we currently provide, do not hesitate to reach out and ask for it. We are here to help you.